Magnetic Sensor suitable for use in high temperature applications
NPN open collector
Max Temperature 150°C/302°F
Includes Military Plug with 2 meter connection cable
Part Number: MXD-TS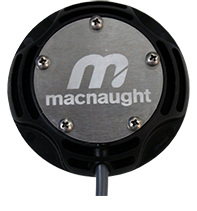 Compact Pulser Module – Reed/Hall Effect
Polypropylene enclosure IP67
Pulse outputs include 1x Reed and 1 x Hall Effect (NPN open collector)
1.5 meters of 5 core cable
Incorporates the Macnaught M-LOCK Mounting System
Part Number: MXD-AS 
NPN output – Intrinsically safe Pulser Module approved for use in hazardous areas
NPN open collector output
approved ATEX, CSA, FM
rating: II G Ex ia II T6
included DIN plug with 2 meter connection cable
Part Number: MXD-BS 
Namur output – Intrinsically safe Pulser Module approved for hazardous areas
Namur output (2 wire)
approved ATEX, IECEx
rating: II I G EX ia IIC T4..T6 Ga/II 1 D Ex ia IIIC T115°C Da
Includes DIN plug with 2 meter connection cable
Part Number: MXD-NS

The DIN Pulser Module presents several options relating to both Sensor technologies and cabling connections.
Easy fit by incorporating the Macnaught M-LOCK (1/4 Turn) mounting system, the DIN Pulser Module also offers a 'Secure Locking' facility to protect against unauthorised removal.
Rated IP7
M12 (A coded male) DIN connection. 5 position.
Available with connection cable, or Field Attachable screw connection facility (See cabling options)
Sensor Options:
Part number MXD-RH
Reed and Hall Effect sensor
Part number MXD-HH
Dual Hall
*Please note: Cabling and Socket connections are ordered separately.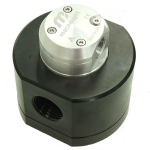 The Industrial Pulse Cap is designed for those customers who wish to route the signal cables via a cable gland, or through an armoured conduit.
Rated IP67 and manufactured from billet, the new pulser cap is available with the option of either a 1/2″ NPT or M20x1.5 cable gland entry port.
Part Number MXD-ACM-1
Aluminium construction
Reed and Hall Effect Sensors
M20 x 1.5 Cable Gland entry
Part Number MXD-ACM-2
Aluminium construction
Dual Hall Effect Sensor
M20 x 1.5 Cable Gland entry
Part Number MXD-ACN-1
Aluminium construction
Reed and Hall Effect Sensors
½" NPT Cable Gland entry
Part Number MXD-ACN-2
Aluminium construction
Dual Hall Effect Sensors
½" NPT Cable Gland entry